"Two years here, and it feels like the one-year-jubilee was only yesterday."
―Aljarreau about his continued membership at the "Chronist"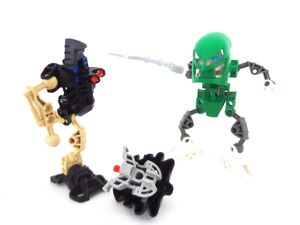 On this very special day of December 20th, 2013 comes my Update for December in particular and 2013 in general! :D
My 2013
A great year. I started playing bass guitar, got active on CBW, entered my last-but-one year of school (and got to know many new friends by the way) and altogether felt better than last year.
Really, I've come to look at things in a more positive way, which is a great thing! :D This year, though, ended with a personal catastrophe, namely a "no" coming from the wrong person at the wrong time. Following that, I went through a week-long period during which I got so depressed I had no driving power whatsoever. I haven't fully recovered yet, but the worst is behind me.
I hereby would like to once again thank the people on the Custom BIONICLE Wiki who supported me and helped me to get through this difficult time. That I will never forget.
Two years at the "Chronist"
Yes, two years ago, on December 20th, 2011, 14-year-old
Aljarreau
signed up for the German BIONICLE online forum "Der Chronist" ("The Chronicler") under the name of
Hafu
, never thinking he'd still be there two years afterwards.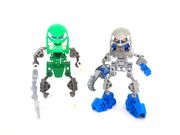 I've met some great people there and spent countless hours and endless evenings in the forum's chatbox, so you could say it's become an important part of my life :P
The "Chronist" also was milestone-setting for my later BIONICLE-related online activity. The "Chronist" saw the very first MOC I ever uploaded to the Internet and my first attempts at fanfictions and storylines.
Without it, I would've never signed up to Brickshelf, MOCPages, BZPower, BioMedia, BIONIFIGS, Custom BIONICLE Wiki etc. Quite decisive indeed :D
So here they are, eight users who had to get along with me over the last two years! :P We've become a very tightly-knit community, to say the least! :D
Nuhrii the Metruan
Although you have a habit of altering reality, I respect you for constantly enduring my freak-outs! xD Hail to the Admin!

-When will you start using correct German, for Mata Nui's sake?!

-Did you alter reality again? Your eyes' color just changed...
Pahrak
My official best bud on the Internet, Pahrak signed up for the "Chronist" at around the same time as me, and I think the facts that we both had chosen Stone-related nicknames and both enjoyed the same music contributed much to it :D

Ain't those cool Krana-swimming trunks? xD

-Remember destroying Ga-Koro, Pahrak?
Lesovikk520 and Fippe
I enjoy freaking out with both of you in the chatbox! :D

See what I did here now, Leso? :P

glare: Ah damn, doesn't work here...

Fippe manages the German BIONICLE Wiki, the Chronist-Wiki almost all by himself, and for that alone, he should get an award :D

Yes, you're a Vo-Matoran... Because of the Fippe-Blitz :D
Toa-Nuva and Toa nuriamer
| | |
| --- | --- |
| The eternal watcher over chat-events in particular and the forum in general, the Global Moderator does everything he can to keep the forum in check! :D | Codenamed Tn2 for obvious reasons, this user creates wonderful banners and logos which truly could match the official ones! |
Darkuta and Hero Fan
You may know this guy from YouTube, where he goes by the name of Ackar97, and if you know him, you certainly will agree when I say his MOCs are extremely remarkable! :D

The sole Hero Factory fan on the Chronicler, Hero Fan has had to defend his passion uncountable times in the past.

I remember having many, many arguments about Hero Factory with you... XD But there never was any serious offense :P
You've been and still are a great community! Thanks for the last two years!
I love you all!
Stories and Pages
Enough of all this sentimental bullshit, let's get into the serious stuff! XD
I've written the Prologue and the first Chapter for Dawn?, a story taking place in the Shasa Universe one year before the Return to Spherus Magna. I'd appreciate it very much if you would take the time to read it :D
Also, I've finally set up my
Shasa Universe
page, a deed of which I am very proud. Gra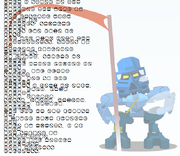 nted, there's still the history missing... But still, there is something to see there, e.g. this:
Who is able to read it? :P
Of course, I'll provide the translation on demand, but still I'd love to see someone providing a translation on his own :P
If you want to see more of my articles, just check out the Category:Shasa Universe Storyline, for most of my stuff falls in this category :P
2014
What's gonna happen in the next year? First of all, I will begin shooting Rebellion during spring. This project has been started eons ago, and it really should get serious at some point :P
Also, I will expand my two current stories, Dawn? and Into The Void, and, of course, write as many articles as I can :D
I am even planning another comic project, but that remains very unclear.
That's about all :P XD
Farewell
I did it, I wrote my December Update before year's end :P I even wrote it before Christmas! XD
I hope so much wikitext didn't knock you out and you made it through halfway alive :P
Have a wonderful Christmas, chill out, get presents, give presents, pray to whatever deity you may believe in, and most importantly, have an amazing start into the new year! :D I'll see you guys in January! :D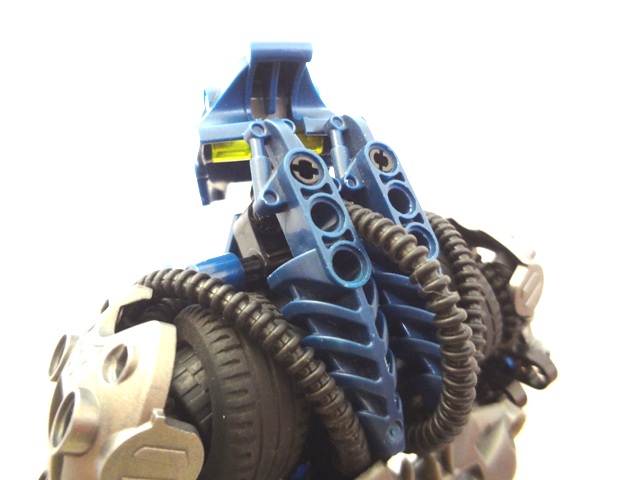 Community content is available under
CC-BY-SA
unless otherwise noted.