This article was written by Gwideon. Please do not add to it without the writer's permission.
Talios
Character
Status

Banished

Location

Okoto (Shattered realities Universe)

Pronunciation

Ta-Lee-os

Group

hunters

Occupation

assassin

Element

Ice

Powers

Dagger can emit a sonic blast

Kanohi

Kanohi cha (mask of seeing)

Tools

Claw prosthetic, Dagger
Biography
Talios is apart of the group known as the hunters, Makuta's private police force, and is one of their top ranking assassins. He is known to be ruthless and without mercy.
Early Life
Talios started out as a regular ko-matoran but a accident ended with him losing his hand. He then had a prosthetic hand built for him. soon after a group called hunters approached him and he agreed to join their ranks.
Hunters
Soon after he had his memory wiped and and was given his Kanohi cha. The hunters utilized him for many missions, and with each mission came success. soon he had risen though to become the master assassin. Soon after Makuta gave the mission to assassinate Ekimu. soon after the shattering occurred and Makuta became king over the remains of okoto.
The Rebellion
Soon after the toa rose up and Talios' services where needed. he was sent after several high profile targets and success came naturally but that would change. on a mission to assassinate the rebel leader he was captured and sent to a high security prison, but soon he escaped and made his way back to the hunter base. When he got back Makuta promptly banished for his failure and that is where he remains.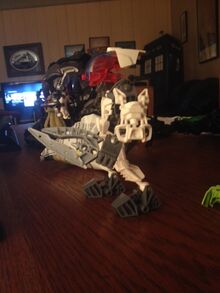 Tools
Talios' tools consite of his prosthetic claw and his dagger. During his time as a hunter he had access to a huge arsenal. He wears the Kanohi Cha a mask the allows the user to instantly see his opponents weaknesses.
Stats
| | | |
| --- | --- | --- |
| Strength: | 3 | |
| Agility: | 7 | |
| Toughness: | 5 | |
| Mind: | 8 | |
Trivia
This is Gwideon's first matoran moc
the kanohi cha is made up of 5 pieces including the phantoka visor, a rod, a ball joint, a axle pin, and a hero factory shell.
Talios' claw can be removed but he forgot how to.